Full mouth rehabilitation
The gradual wear of the occlusal surfaces of teeth is a normal process during the lifetime of a patient. However, excessive occlusal wear can result in pulpal pathology, occlusal disharmony, impaired function, and esthetic disfigurement. However, the rehabilitation of the severely worn dentition is challenging when the space for restoration is not sufficient.
Management of worn dentition using fixed or removable prostheses is complex and among the most difficult cases to restore. Assessment of the vertical dimension is important for the management, and careful comprehensive treatment plan is required for each individual case. Articulated study casts and diagnostic wax-up can provide important information which is helpful for the evaluation of treatment options. Tolerance of changes to vertical dimension of occlusion is usually confirmed with the clinical evaluation of the patient having a diagnostic splint or provisional prosthesis.

Root canal treatment
A root canal is a treatment used to repair and save a tooth that is badly decayed or becomes infected. During a root canal procedure, the nerve and pulp are removed and the inside of the tooth is cleaned and sealed. Without treatment, the tissue surrounding the tooth will become infected and abscesses may form.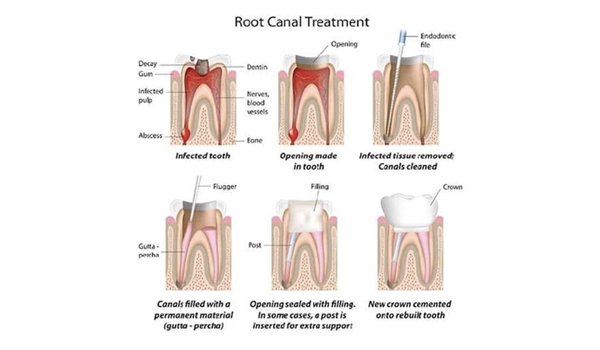 Understanding
Root canal treatment consists of a number of steps that take place over several office visits, depending on the situation. These steps are:
The endodontist examines and x-rays the tooth, then local anesthesia is administered to the affected tooth.
A dental dam is usually placed over the affected tooth to isolate it and keep it free from saliva.
The endodontist makes an opening through the back of a front tooth or the crown of a molar or pre-molar to remove the diseased pulp, called a pulpectomy.
Next, the pulp chamber and root canals are cleaned and shaped in preparation for a filling
The endodontist fills the root canal with gutta percha material.
If more than one visit is needed, a temporary filling is placed in the crown opening to protect the tooth between dental visits. The temporary filling is removed and the pulp chamber and root canal are permanently filled with gutta percha into each of the canals and is sealed in place with cement. Sometimes a metal or plastic rod is placed in the canal for structural support. In the final step, a crown is usually placed over the tooth to restore its natural shape and appearance. If the tooth is broken, a post may be required to build it up prior to placing a crown.
Flap surgery
Periodontal Flap Surgery
Tooth Wear.When advanced gum disease (periodontitis) develops, your teeth are in danger: At this stage, the ligaments and bone tissue that surround them are being destroyed, and you could even begin losing teeth! If the disease can't be controlled by non-surgical treatments like cleaning and scaling, then periodontal flap surgery may be your best treatment option.
When periodontal pockets develop, the first step in treating them is usually via cleaning and scaling (also referred to as root debridement) with a manual or ultrasonic instrument. If this isn't effective, then periodontal surgery is considered. Flap surgery isn't a cure for periodontal disease — but it helps create an environment that makes it easier to maintain your periodontal health. And even if you're prone to gum disease, proper professional treatment and regular care at home can help keep your teeth healthy for as long as possible.
The Goals of Flap Surgery
One major objective of flap surgery is to eliminate or reduce the pocket itself.
Another goal is the regeneration of periodontal ligament and bone tissue which may have been lost to the disease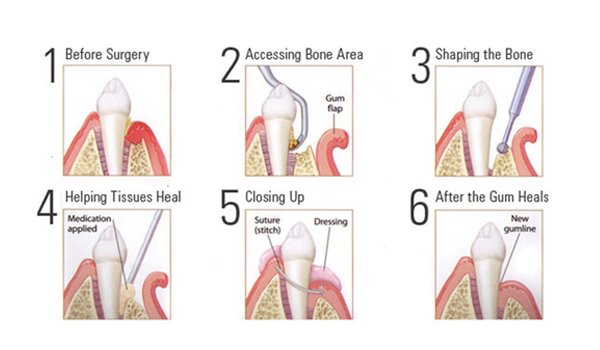 Tooth extraction
Although permanent teeth were meant to last a lifetime, there are a number of reasons why tooth extraction may be needed. A very common reason involves a tooth that is too badly damaged, from trauma or decay, to be repaired.
Dentists and oral surgeons (dentists with special training to perform surgery) perform tooth extractions. Before pulling the tooth, your dentist will give you an injection of a local anesthetic to numb the area where the tooth will be removed. In some instances, your dentist may use a strong general anesthetic. This will prevent pain throughout your body and make you sleep through the procedure.
If the tooth is impacted, the dentist will cut away gum and bone tissue that cover the tooth and then, using forceps, grasp the tooth and gently rock it back and forth to loosen it from the jaw bone and ligaments that hold it in place. Sometimes, a hard-to-pull tooth must be removed in pieces
Smile Design
Smile Design is a protocol of managing the shapes, contours and color of the teeth as they appear in a smile and are proportioned in an individual's face. This protocol and management needs to balance with the elements of function and health that are specific for each individual in order to achieve a successful result

Tooth Gap
Diastema A naturally occurring (i.e. not resulting from the removal of a tooth) gap in the tooth row, most commonly between the incisors and first premolar.


Teeth Whitening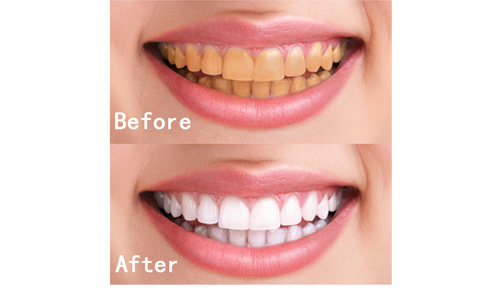 Tooth whitening lightens teeth and helps to remove stains and discoloration. Whitening is among the most popular cosmetic dental procedures because it can greatly improve how your teeth look. Most dentists perform tooth whitening.
Whitening is not a one-time procedure. It will need to be repeated from time to time if you want to maintain the brighter color.
Vital Whitening
The most common type of vital tooth whitening uses a gel that is applied directly to the tooth surface. This product contains some form of hydrogen peroxide.
Tooth whitening can be done in the dentist's office or at home. In-office whitening allows your dentist to use a more powerful whitening gel. A specialized light or laser activates the gel and allows bleaching to happen faster.
In-office whitening usually takes 30 to 90 minutes. You will need 1 to 3 appointments. The number will depend upon the method used, how severe your stains are and how white you want your teeth to be. Different types of stains respond differently to the treatment.
First, your dentist will apply a substance that covers and protects the gums around the teeth. Then, the whitening agent will be placed on the teeth.
Some whitening agents are activated by a laser light, special lights or by the heat from these lights. After the whitening agent is applied, the dentist will shine the light on your teeth. If they are badly discolored, your dentist may suggest that you continue the bleaching process at home for a few days or weeks.
Cavity Filling

Denture
Denture, artificial replacement for one or more missing teeth and adjacent gum tissues. ... Partial dentures are commonly used to replace a single tooth or two or more adjacent teeth. The partial appliance may be removable or fixed; it usually relies on remaining teeth for stability.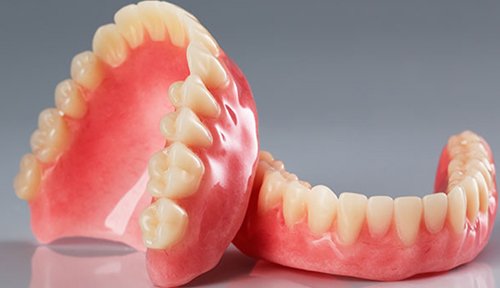 Gum Treatment
Gingivitis is a non-destructive disease that causes inflammation of the gums.[1] The most common form of gingivitis, and the most common form of periodontal disease overall, is in response to bacterial biofilms (also called plaque) that is attached to tooth surfaces, termed plaque-induced gingivitis.

Kids Dentistry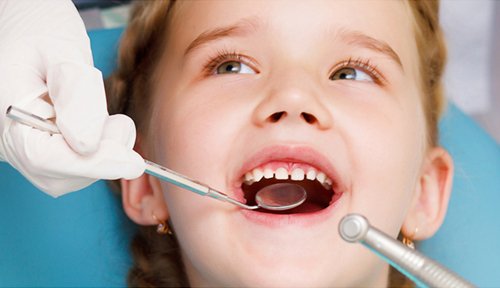 we understand that dental visits can be especially difficult for children. That's why our office is dedicated to treating children in a positive and fun-filled atmosphere to help facilitate worry-free dental visits. Our office provides care to infants, children and adolescents, as well as those with special behavioral and healthcare needs of all ages. Our treatments include: dental exams, digital X-rays, diagnosis, treatment planning, sealants, crowns, fillings, extractions, space maintenance, laughing gas, office sedation, operating room dentistry and more.
Crown and Bridges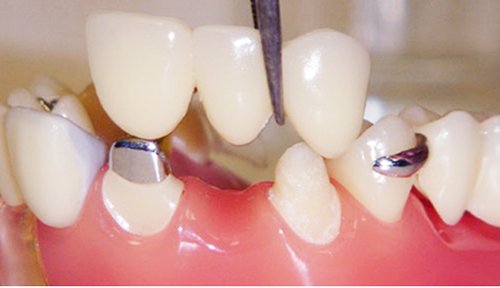 Oral Cancer